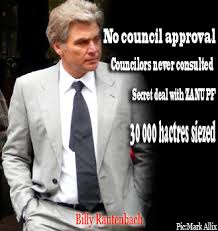 After misleading government claiming his company would electrify the whole of Manicaland all year round while displacing more than 1 700 families(an estimated 10 000 members from their traditional 10 00 hectares of land), Billy Rautenbach's Green Fuel company has flopped.
The businessman who defied environmental assessment procedures in 2011 while destroying ancestral homes under a fake promise that he would in exchange provide employment for thousands of Zimbabweans, claimed he would electrify the whole of Manicaland. But 6 years later, his project has failed and proved a total flop.
Green Fuel has among other boobs, constantly failed to provide adequate supplies.
The current inadequate supplies of ethanol from Green Fuel last week forced Government to revise downwards the mandatory blending level of unleaded petrol with ethanol to 5 percent from 15 percent.
In an interview with the state media on Monday, Energy and Power Development Minister Dr Samuel Undenge said Cabinet has agreed that there must be more players in the production of bio-fuels.
"Cabinet agreed we should liberalise the bio-fuels sector and allow more players to take part. The current situation with Green Fuel is not about lack of capacity but due to the rains, the company has been finding it hard to harvest in the fields. It is my belief that once the rain situation stabilises, we will begin to see a change in the supply of ethanol. Above all, we still expect more players to start investing in this sector," said Minister Undenge.
Government had earlier indicated that it is willing to licence more ethanol players to supply the country's 20 percent mandate as long as they comply with partnership guidelines.
However, such intentions have to date not come to fruition as the licensing authorities have taken long to issue licences to interested players. Currently, Green Fuel, a joint venture between the Agricultural and Rural Development Authority and Macdom and Rating Investments, is the country's sole producer of ethanol and has on several occasions faced challenges in meeting national demand for ethanol.
However, the Chisumbanje-based company has allegedly encountered ethanol supply challenges, compelling Government to engage Triangle Limited, a subsidiary of South Africa-based Tongaat Hulett to augment supplies.
Sources in the fuel industry told the state media Business that Government is currently getting ethanol supplies from Triangle after Green Fuel failed to meet ethanol demand due to incessant rains. Hippo Valley Estates Limited has ethanol production capacity of 41 million litres per month and has since applied for a licence to supply the local market. Minister Undenge said an unnamed investor has also shown interest in setting up bio-fuels plant in Mashonaland Central.